A SPRING FLING – COME JOIN US!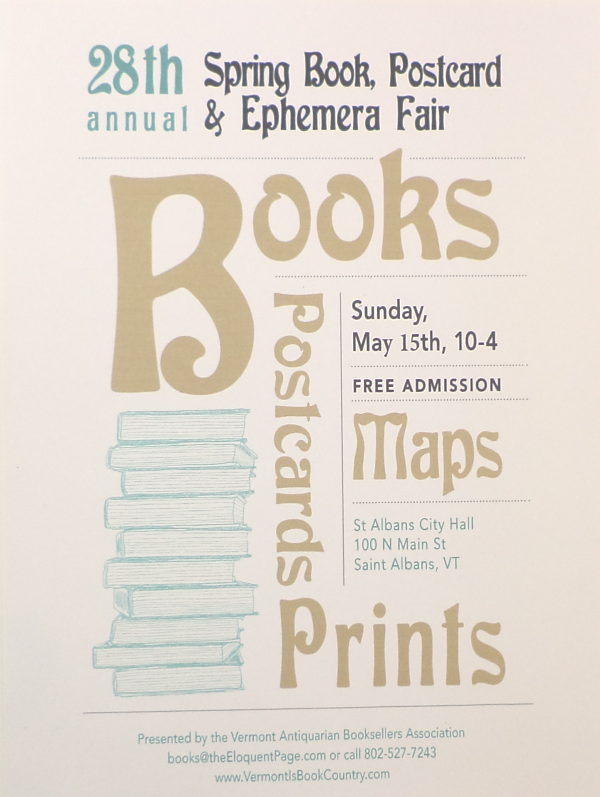 The Participants so far:
Donna Howard, The Eloquent Page, St. Albans, VT: Costume and Fashion, Vermontiana, general stock.
John Hess, Catamount Books, Arlington, VT: Vermont/New England, Biographies, History, Science Fiction, Hunting & Fishing, Science and Natural History.
Norbert Ender, Speaking Volumes, Burlington, VT: Fiction, Poetry, Ecological, Non-Fiction, Art, Kid's Books, Antiquarian and Collectible.
Sandy Lincoln, Seasoned Books & Bakery, Rochester, VT: General stock of new, used and collectible titles to include Cookbooks, Agriculture and Children's books.
Mark Ciufo, North Country Books, Milton, VT: Modern and Antiquarian, Literature and most subjects, including Vermont. Prints, Maps, Posters and other Ephemera.
Bill & Linda Mattoon, Black River Used Books, Springfield, VT: General stock, most subjects.
Patty McWilliams, Hermit Hill Books, Poultney, VT: Vermontiana, Nature & Environment, History, Film, Music, Art, Cookbooks, Mystery, 20th-Century Literature.
Back Door Antiques
Mike Wilson Antiques