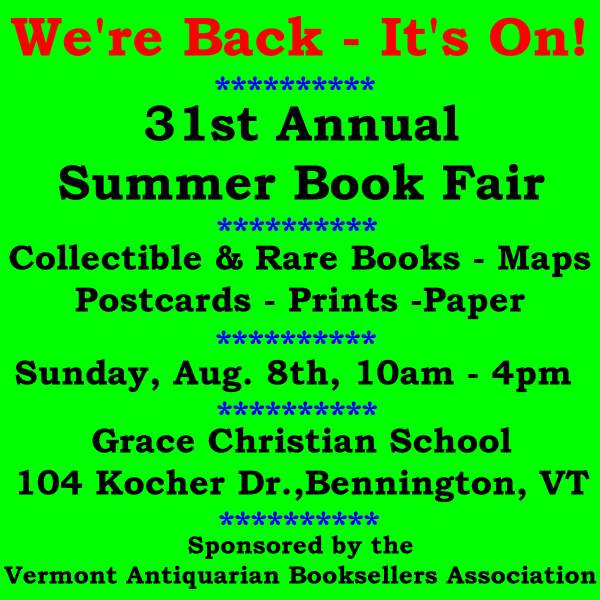 The Participants so far:
John Hess, Catamount Books, Arlington, VT: Vermont/New England, Biographies, History, Science Fiction, Hunting & Fishing, Science and Natural History.
Donna Howard, The Eloquent Page, St. Albans, VT: Costume and Fashion, Vermontiana, general stock.
Ben Koenig, The Country Bookshop, Plainfield, VT: Folk Music, Folklore, and books on Bells, prints, paper ephemera and postcards.
Patricia McWilliams, Hermit Hill Books, Poultney, VT: Vermontiana, Film, Music, Art, Cookbooks, Mystery, 20th Century Literature.
James Damato, Readsboro Falls Bookstore, Readsboro VT: General stock, Military, Out-of-Print.
Lois Jackson, Jackson Antiquarian Books, Bradford, VT: Poetry, Botany & Gardening, Art, Travel, Cooking and Vermontiana.
Karen Austin, Austin's Antiquarian Books, Wilmington, VT: Americana, the West, Theodore Roosevelt, Civil War, Fine Bindings, Travel & Exploration, Natural History, Fly Fishing & Sporting.
Barbara Harding, Otter Creek Used Books, Middlebury, VT: Eclectic mix of paperback & hardcover, used and antiquarian.
Peter Stern, Peter L. Stern and Co., Inc., Newton, MA: 19th and 20th century literature, signed and inscribed books, and manuscripts.
Jeffrey Bergman, Jeffrey Bergman Books, Flemington, NJ: Modern first editions, books on books, Pulitzer Prize literature, signed books, mysteries, Civil War books, and classics in all fields.
Carol Ceraldi, Graham Hill Bindery, Craftsbury, VT: Member of: The Guild of Book Workers (New England Chapter) and the Book Arts Guild of Vermont. She has exhibited nationally and has taught workshops and given talks on binding locally.
William Mattoon, Black River Used Books, Springfield, VT: Military, Pop Up Books, Vermont, Cook books and general, Hard cover and paperback.
Jim Hudgins: Author of several Vermont mysteries, will be selling and signing books.
For more information, contact John Hess, John@catamountbooks.com